Vertical Autoclave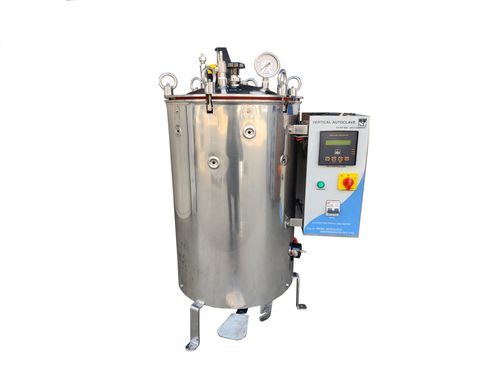 Vertical Autoclave
Price And Quantity
Product Specifications
Complete S.S

Vertical autoclaves are also known as top loading sterilizers that come in cylindrical shape. These are widely used in hospitals, Operation Theater (OT), microbiology laboratory for sterilization of various medial and cultures
It is used for sterilization under saturated steam pressure at any selected point between 5 to 20 PSI These are double walled units with inner chamber (Boiler) made of 16 S.W.G. Fitted with silicone rubber gasket, all systems are hydraulically tested up to 40 PSI. as a safety measure. All autoclaves are fitted with standard accessories such as low water level cut off pressure gauge. stem release cock, spring loaded valve and heating element. Supplied Complete with cord and plug to work on 230 volts A.C. Supply. Micro processor PID controller with timer. Inner & outer chamber complete Stainless steel.

Lab Type
Heavy duty industrial flange heaters

Exhaust valve & spring loaded safety valves
Product Description
It is used for sterilization under saturated steam pressure at any selected point between 5 to 20 PSI These are double walled units with inner chamber (Boiler) made of 16 S.W.G. Fitted with silicone rubber gasket, all systems are hydraulically tested up to 40 PSI. as a safety measure. All autoclaves are fitted with standard accessories such as low water level cut off pressure gauge. stem release cock, spring loaded valve and heating element. Supplied Complete with cord and plug to work on 230 volts A.C. Supply. Micro processor PID controller with timer. Inner& outer chamber complete Stainless steel
VERTICAL (DOUBLE WALL)
CONSTRUCTION
Double wall design has single chamber for steam and water.
Inner chamber is of 2 mm thickness made of stainless steel;
Outer cover is also made of stainless steel.
Lid and flange are made of thick stainless steel.
Foot Lifting Arrangement for Door.
Temperature range
121°C to 125°C
Temperature resolution 0.1°C
Temperature accuracy '±0.5 '°C
Temperature sensor
PT100 RTD type ClassÂ
Temperature Control
Low Water Level Alarm
Microprocessor based PLC digital display.
Auto Purging And Auto Release
Temperature Display
LED / LCD back lit display
Pressure range
15 to 22 PSI, factory set at 15 PSI.
Pressure display
Dial gauge
Pressure resolution PSI
Electrical
230V / 440V / 50 Hz.
 Product details
| | |
| --- | --- |
| Shape | Vertical |
| Application | Lab & Pharma |
| Warranty | 1 Year |
| Installation | Yes |
| Pressure Range (psi) | 15 psi |
| Temperature Range | 121.4 Deg C |
| Power Consumption (KW) | 2-6 KW |
| Approval Certificate | CE Certificate |
| Mount Type | Floor Mounted Autoclave |
| Automation Grade | Manual,Semi Automatic,Fully Automatic |
| Insulation Wall | Double Wall |
| Internal Dimensions | 450x450x600 to 600x600x1200 mm |
| Material | Stainless Steel |
| Brand | PSI |
| Chamber Volume (Litre) | 35-213 Litre |
| Usage | Hospital,Laboratory |
| | | |
| --- | --- | --- |
| DIAX Height | Ltr | Load |
| 30 cm x 50 cm | 35 | 2 kw |
| 35 cm x 55 cm | 52 | 3 kw |
| 40 cm x 60 cm | 80 | 4 kw |
| 45 cm x 60 cm | 98 | 4 kw |
| 45 cm x 75 cm | 120 | 5 kw |
| 55 cm x 75 cm | 152 | 6 kw |
| 55 cm x 90 cm | 200 | 6 kw |