Laboratory Biosafety Cabinet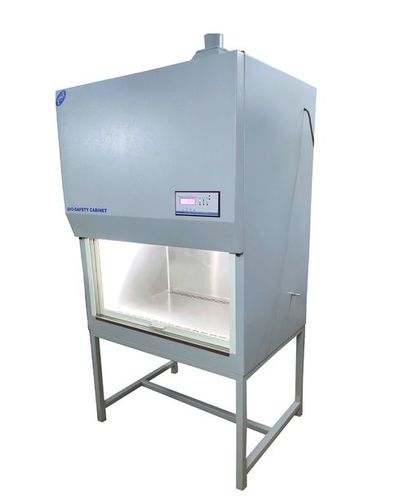 Laboratory Biosafety Cabinet
Product Description
With the experience of about 17 years, we are becoming as one of the promising manufacturers and suppliers of Laboratory Biosafety Cabinet. It is extensively utilized in hospitals, research labs, and chemical & pharmaceutical industries. This cabinet is required for working with potentially harmful microorganisms to prevent them from contaminating the room or environment. Offered Laboratory Biosafety Cabinet is made according to three classes of biosafety levels as desired by the customer.
Features of Laboratory Biosafety Cabinet:
Equipped with HEPA filter and high efficiency motor to assure uniform distribution of filtered air
Provided with ultraviolet lamp for sterilizing purpose
Made of PU coated galvanized alloy
Biosafety Cabinet
PSI Class II Type B1 Biological Safety Cabinets
The Class II Type B1 biological safety cabinet has a common plenum from which 70% of air is exhausted, and 30% re-circulated to the work area as the down flow.
Type B1 cabinets also have a dedicated exhaust feature that eliminates re-circulation when work is performed towards the back within the interior of the cabinet. Toxic chemicals employed as an adjunct to microbiological processes should only be employed if they do not interfere with work when re-circulated in the down flow.
PSI Class II Type B2 Biological Safety Cabinets
PSIClass II Type B2 cabinet all inflow and down flow air is exhausted after HEPA filtration to the external environment without recirculation within the cabinet. Type B2 cabinets are suitable for work with toxic chemicals employed as an adjunct to microbiological processes under all circumstances since no re-circulation occurs. In theory, Type B2 cabinets may be considered to be the safest of all Class II biological safety cabinets since the total exhaust feature acts as a fail-safe in the event that the down flow and / or exhaust HEPA filtration systems cease to function normally. However, Class II Type B2 cabinets are, in practice,difficult to install, balance and maintain.
1 Product: - Class I Biosafety Cabinet
2 Air balancing: - 0% recirculation.100% exhaust
Protection: - personnel & environmental protection
3 MOC: - Galvanized Iron with PU coated / Stainless Steel Matt Finish
Exhaust Filter: - HEPA Filter having EU 13 rating with suitable size
4 Efficiency: - 99.99% down to 0.3 Microns
Pre Filter: - EU 4 rating with suitable size
5 Efficiency: - 90% down to 10 Microns
6 Inflow Velocity:- Minimum 100% from the front opening
7 Illumination Of Light: - Optimum
8 Noise Level: - Less than 70 db 'A'
9 Vibration Level: - Minimum.
10 Magnehelic Differential
Pressure Gauge: - 01 No. (Make: Omicron USA) with each unit
(To measure differential pressure across the supply HEPA filter).
11 Motor Blower Assembly: - Statically & dynamically balanced with suitable rating and size. (Induction motor with centrifugal blower) A Mounting unique spring suspension system to take care of vibration and noise.
12 White Lights: - Lights through white acrylic cover to get maximum light intensity
13 3 Pins Switch & Socket: - 15 AMPS - 1 set in each unit
14 Other Switches: - On/Off switches for motor blower & CFL lights